Questions & Answers
1. What is KVM?
2. What is KVM over IP?
3. What is CAT5 KVM?
4. What is CAT5 KVM Extender?
5. What is zero-U rack space Cat5 KVM?
6. What is KVM Dongles?
7. What do you need to get started for your KVM Project?


1. What is KVM ?
A Keyboard, Video, Mouse (KVM) switch allows a single keyboard, video display monitor, and mouse to be switched to any of a number of computers when typically a single person interacts with all the computers but only one at a time. The switch provides more table space in addition to saving the cost of multiple keyboards and monitors. KVM switches are commonly used at Web and other server locations with multiple computers but usually a single administrator or Webmaster. The switches range in price from about $200 U.S. for a system in which up to eight computers can be daisy-chained to about $2,000 for a switch that controls up to 10 Sun workstations. Larger configurations can cost more.
Back to Top

2.What is KVM over IP?
Manage your computers from anywhere in the world without having to configure or install software on your servers. Requiring only a raw KVM ( K eyboard, V ideo, M ouse) connection to your computers, the product presents a server on its Ethernet or Modem ports. Any viewer can be used to connect, including a Java viewer which is downloadable from the product itself.

Applications:

Local control: A KVM over IP solution reduces the number of rack consoles and allows multiple support personnel to work simultaneously on the same server via their workstations. This leads to reduced hardware costs and increased management efficiencies, and also increases physical security by providing complete server and device access from outside the data center. For example 78 percent of IT administrators are required to enter the server room daily in order to load a CD or update software applications.

Branch control: KVM over IP enables administrators to remotely troubleshoot and repair branch servers and devices without the need to have technical staff at each location. This reduces the high cost of service calls, and speeds up responses to problems. When changes need to be made at a branch location, they can be done securely and remotely. KVM over IP technology has provided immediate improvements in branch infrastructure management in many sectors including retail, banking and government.

Enterprise control: By using KVM over IP, administrators can have secure centralized control over multi-location data centers. This improves efficiencies, lowers costs, and enables faster troubleshooting and reduced downtime. Avocent DSView® 3 management software provides centralized management of the entire IT infrastructure. DSView® 3 software also increases security by keeping users out of the data center, and ensures comprehensive authentication and logging for device access. You can even load software and diagnostic information onto a remote device, with or without a working operating system.
Back to Top
3.What is CAT5 KVM?
CAT5 KVM Switches products is best solutions for minimizing cable clutter, easy cabling to all your servers and increase air flow in and out of your Server rack cabinet . CAT5 KVM switches is perfect replacement of the old traditional thick and bulky three in one KVM Cables with flexible, thin and economy CAT5/CAT6 Cables. And CAT5 Cables can carries signal without loss in several hundreds feet verses 3-in-1 KVM cables minimize no longer than 15 ft. Also one of the large advantage of using CAT5 switches is decreasing cluttering at the back of the rack where allows more air flow out of the cabinet, clean and easier cable management. But how does the RJ-45 via CAT5 cables to your servers, basically the conversion is simply use an interface module or dongle to convert VGA and PS\2 KVM signal from computer port at the back of the CAT5 KVM switch using CAT5 cables.
4.What is CAT5 KVM Extender?
CAT5 KVM extension solutions provide additional flexibility to your CAT5 KVM management and control systems, by allowing you to set up local CAT5 KVM consoles at varying distances from the computer or server. Some extenders allow distances of up to 300m/1000ft.

The real test of an extender, however, is not the distance but the quality of video for the distance. Better performing CAT5 KVM extenders will provide near-local user experience at the console, even if it is relatively far away from the computer.

Some CAT5 KVM extenders allow additional options, for example, a local user option at the computer or 2-port CAT5 KVM switching.
Product Selections:
Mini KVM5 Extender: Distance 70m/230ft 1600X1200 @ 75Hz
Smart KVM Extender: 110m/360ft Max 1600x1200@75Hz
5.What is zero-U rack space Cat5 KVM?

Raritan Z-Series 4200U
Control up to 42 servers in zero-U rack space
with the switch less KVM switch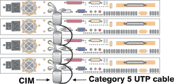 The ultimate space saver
Raritan 's innovative Z-Series offers a switchless solution that enables access and control of multiple servers from a single user console (keyboard, monitor, and mouse), without consuming precious rack space. Z-Series 4200U employs Raritan 's unique communication technology to control up to 42 servers and eliminate the traditional KVM switch box and all hard-to-manage server-to-server cable. It is designed to support the most challenging demands of server management where space is at a premium or where systems to be accessed are up to 1,000 feet away via Category 5 UTP cable.
Simplified installation and operation
Z-Series replaces the traditional KVM switch-to-multiple-server cabling configuration with an innovative chain-like server-to-server arrangement, significantly reducing cable clutter. Small Computer Interface Modules (Z-CIMs) connected to the keyboard, video, and mouse ports of each server are linked with standard Category 5 UTP cable and transmit the keyboard, video, and mouse signals to a User Station. A keyboard, monitor, and mouse (PS/2 or Sun) plug into the User Station, enabling the user to select and control up to 42 servers via simple on-screen user interface menus. Since Z-series components are plug and play, servers can be added at any time with no interruption of server operation
Dongles "Computer Interface Module" (CIM) connects each PC Computer (USB, SUN, PS/2, PS/2, VGA) to the KVM Matrix Switching Unit via standard single Cat5 Cable. .
7.What do you need to get started for your KVM Project?